FLOR + Studio Bon Event
I See Pattern…
…on Home Interiors!
Hi There,
Last week, I attended an event put on by FLOR in uptown Dallas featuring Textile Designer, Bonnee Sharp. Bonnee is the Founder and Owner of Studio Bon Textiles, a hand-printed fabric company based out of Dallas!
Above, is the first print of Bonnee's I saw as I walked through the doors and it happens to be one of my favorites by Studio Bon Textiles. I have seen it pinned on Pinterest a ton! :)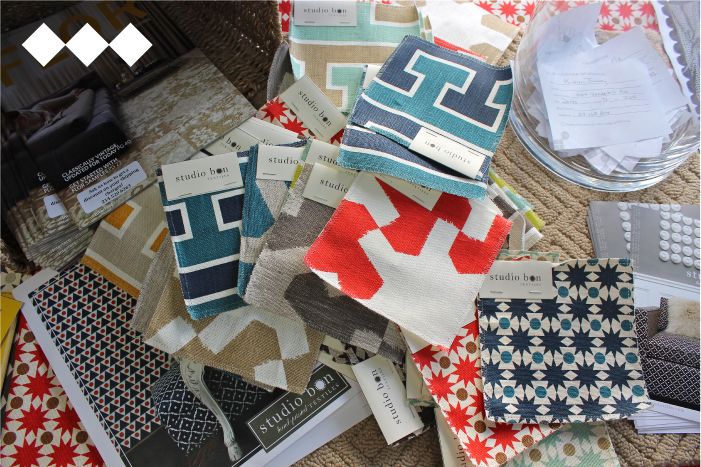 Upon walking into FLOR, there was some info packets about the two companies to pick up aaaand these amazing free hand printed Studio Bon fabric swatches. I basically took a sample of every pattern they offered, after all guests took the ones they wanted, of course! :) All Studio Bon fabrics are hand-printed… in the USA, I might add! I just had to get my hands on them to literally feel and closely see all the perfect imperfections that happen with hand printing fabrics. SO cool! Thx Bonnee!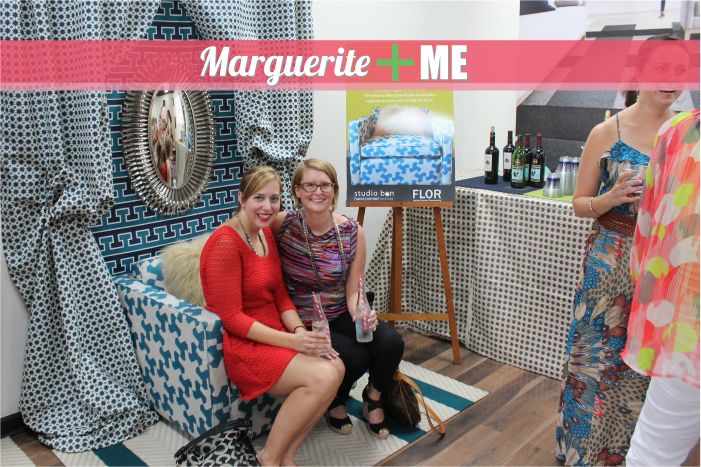 My good friend, Marguerite, came with me to the event! While I was snapping photos of all the beautiful pattern around me, she held my drink. She was my "assistant" for the evening! haha
PS-Do you like the chair we are sitting in??? There was a drawing to win that chair later in the night. Guess who won it? Not me, but Marguerite did! It was so coooooool to have a friend win that awesome Studio Bon printed arm chair. I am so excited for her. It was perfect timing, too, bc she is moving into a new apt at the end of the month! So she will now be able to decorate her new living room around that gorgeous pattern! YAY!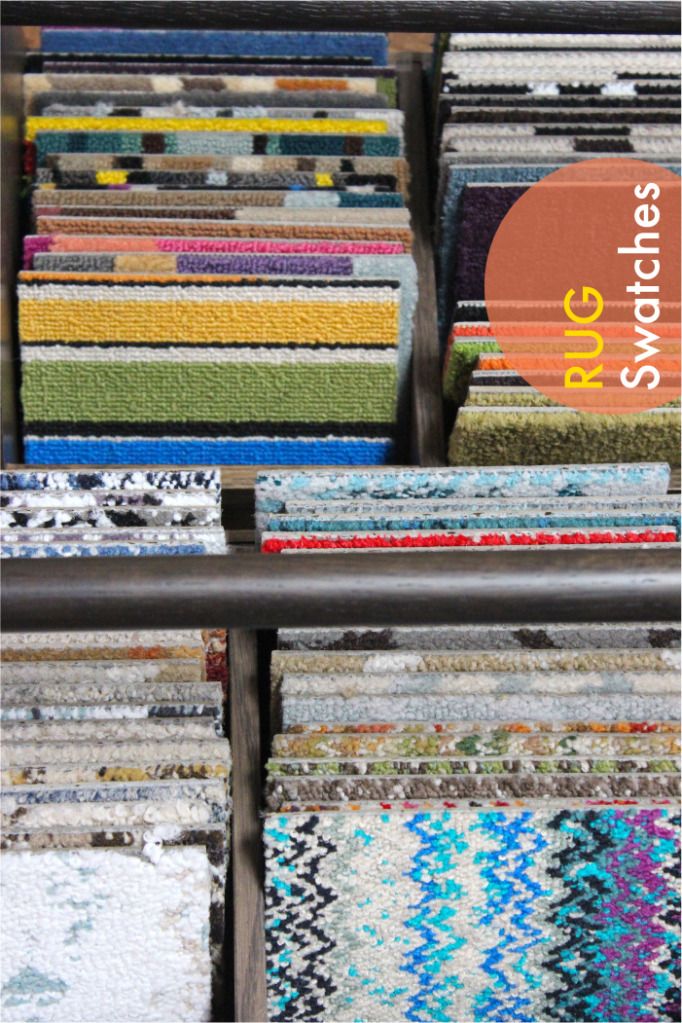 For those of you who have not heard of FLOR, they are a flooring company that specializes in helping you build your own custom designed rugs by choosing from a variety of patterned, textured and solid colored squares of FLOR carpets. Once you have chosen your carpets and design, it is assembled together on the bottom by removable adhesive stickers. Above are some of the samples they are offering this season. The concept of FLOR is so cool. It allows one to make a pattern out of pattern. Check out their website here for more info. There are so many options and examples on the website that will blow your mind! Endless design possibilities!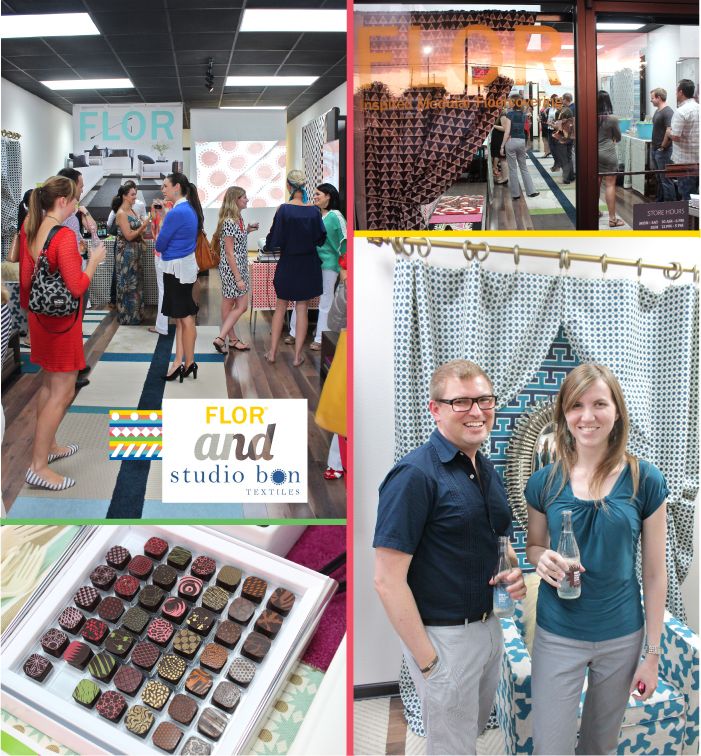 To the right are Sean and Kelcie, the Sales and Design Consultants for FLOR that put the event together. They love pattern so much that they even had pattern on the chocolates! LOVE.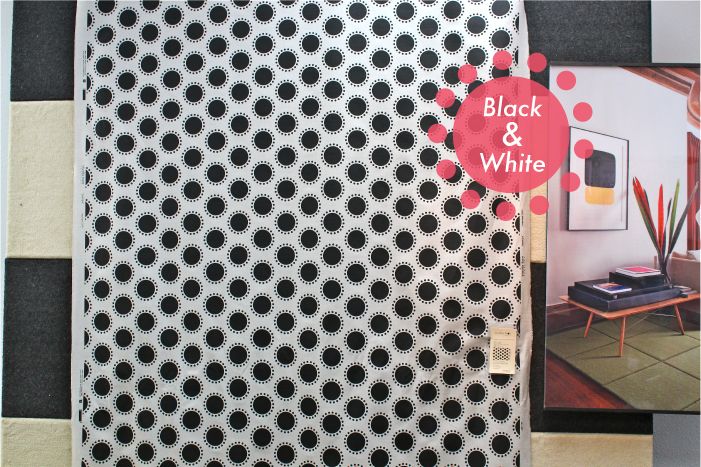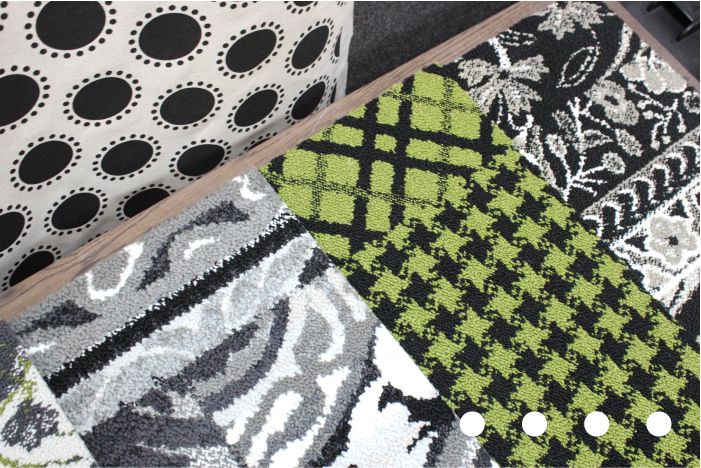 Bonnee Sharp's lovely Black and White dot print in the background (which btw is cleverly placed into Studio Bon's logo as the "O" in "Bon") plus FLOR's patterned carpet squares equals a beautiful photograph. I love this one bc of the colors and bc houndstooth is one of my favorite patterns! It comes in classic black and white, as well. Yummy!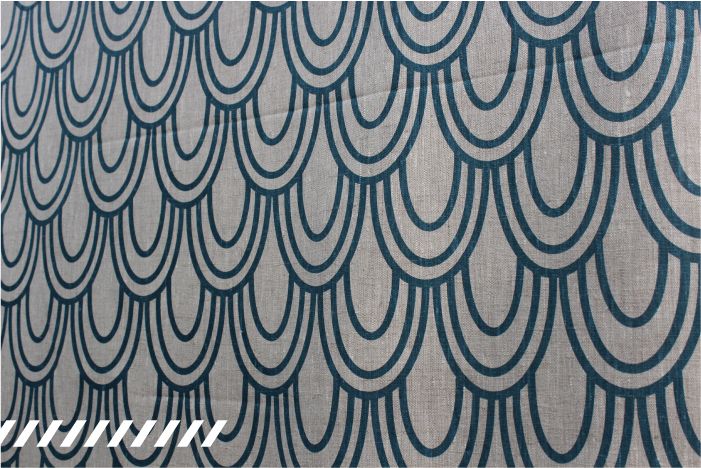 This is Bonnee. I loved hearing her speak about her company and take us thru her design journey that lead her to where she is now. Hearing another Designer's story is always inspiring. As a Textile Designer, one of my struggles is staying focused on one idea. I have so many patterns already designed in my head and bc of that I cannot seem to get one of them done. I am basically all over the place at times with inspiration. I guess I just have too much. It becomes overwhelming. Bonnee reminded me that patterns or even a collection can simply come from one photo. She loves Photography as do I, and has loved it ever since she was a young girl and received her first Polaroid camera. Every pattern she has designed has come from something she saw and snapped a picture of. For me, hearing that helped me remember that it doesnt have to be more than just that. I mean that is, at the end of the day, what I started this blog for. :) Lately I have been getting caught up in whats trending in fashion, interiors, stationary, design books, what other designers are doing, pinterest, etc… SOMETIMES YOU JUST NEED TO WALK OUTSIDE and find your own inspiration and stick with that. Thx Bonnie for reconfirming a process that I have forgotten!
The WINNER of the fab Studio Bon Textiles arm chair! I think it fits Marguerite quite nicely! What do you think?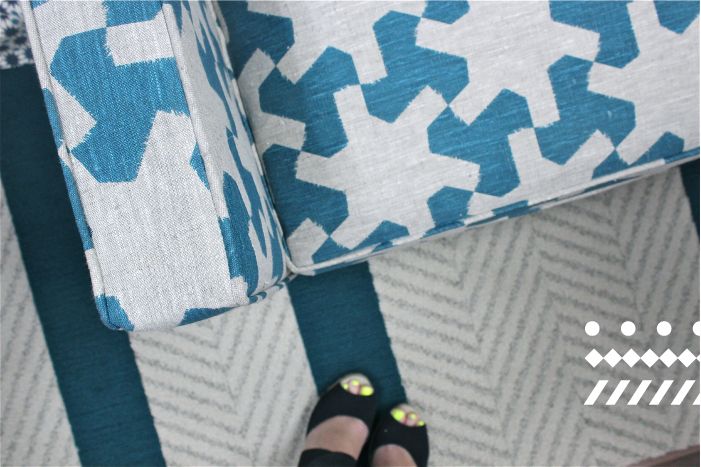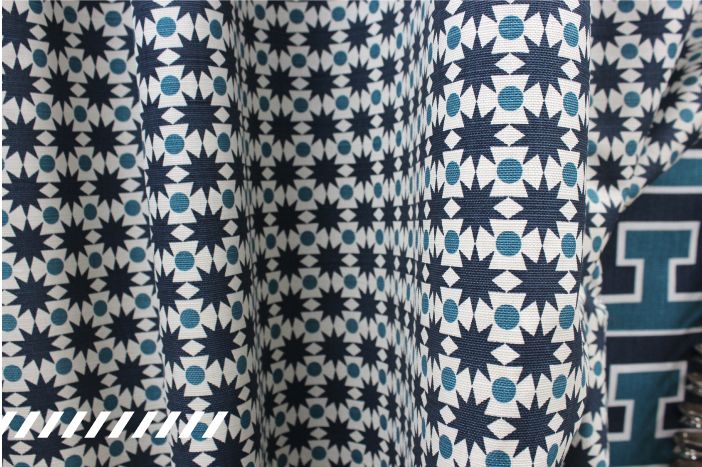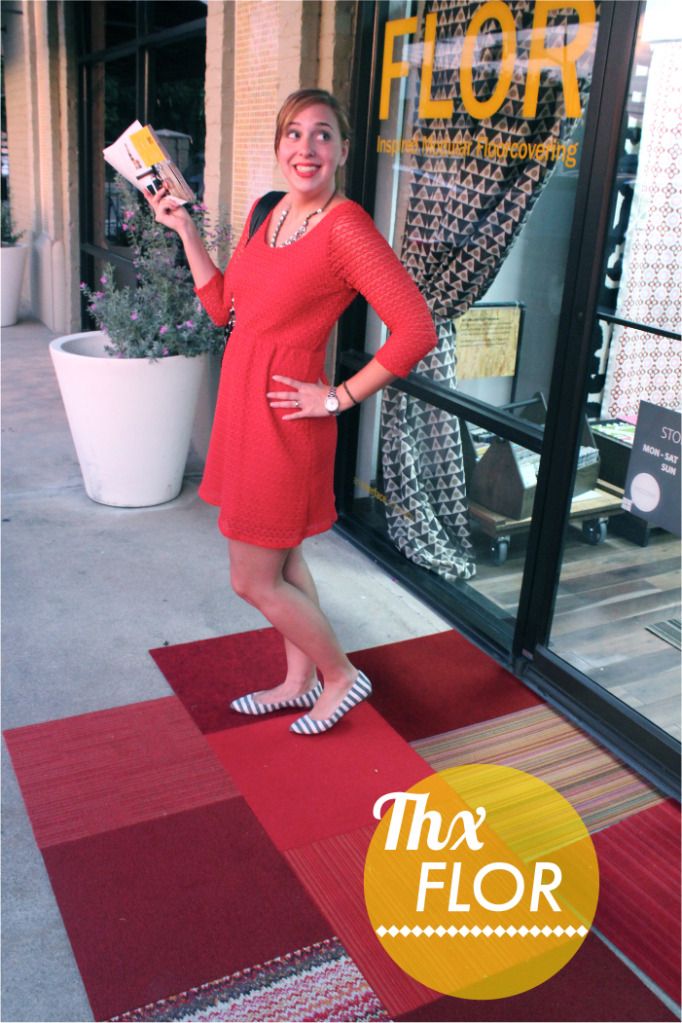 Thx FLOR and Bonnee Sharp of Studio Bon Textiles for a lovely evening!
XOXO,

House Industries Prints
I see pattern…
…in Typography Prints by House Industries.
Hi There,
I wanted to post about House Industries Prints.  I get their emails and am always admiring the patterns that they create with their wildly popular fonts.  I love typography and I love pattern.  So these prints are great to me!  :)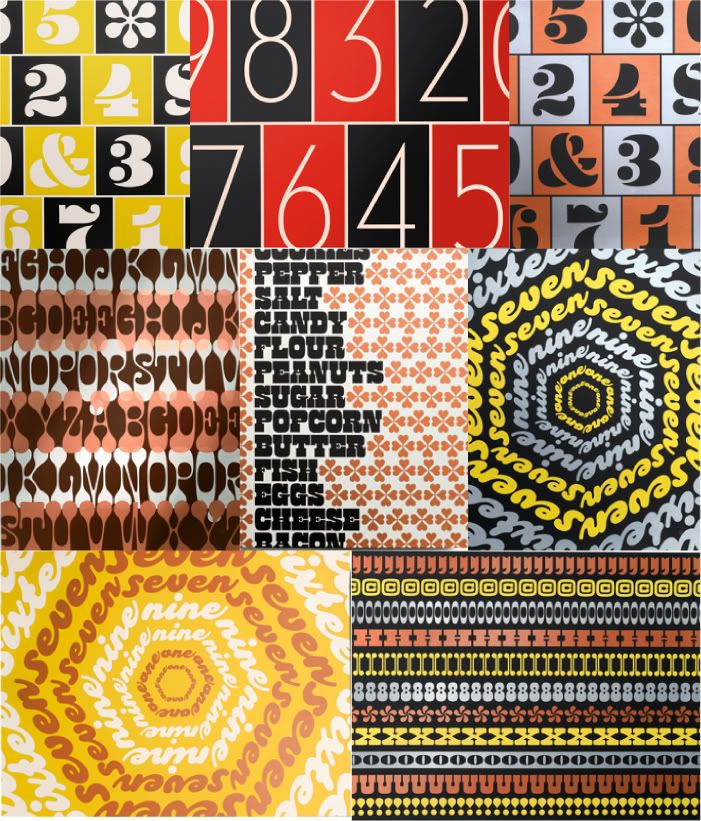 *All images are from House Industries' website.  Click here to buy one of these prints!
XOXO,
Whitney

Hipster
i see pattern…
in my new favorite fashion blog!
I found this fashion blogger on www.weardrobe.com.  I fell IN LOVE with the creative outfits she puts together.  They are inspiring.  Each one is like an art piece.  Her Blog is called DIRTY.HAIR.HALO.  Click here to see what it's all about.  I gush over it everyday!  Lots of pattern and prints!!!!!!!!!!!  :) <3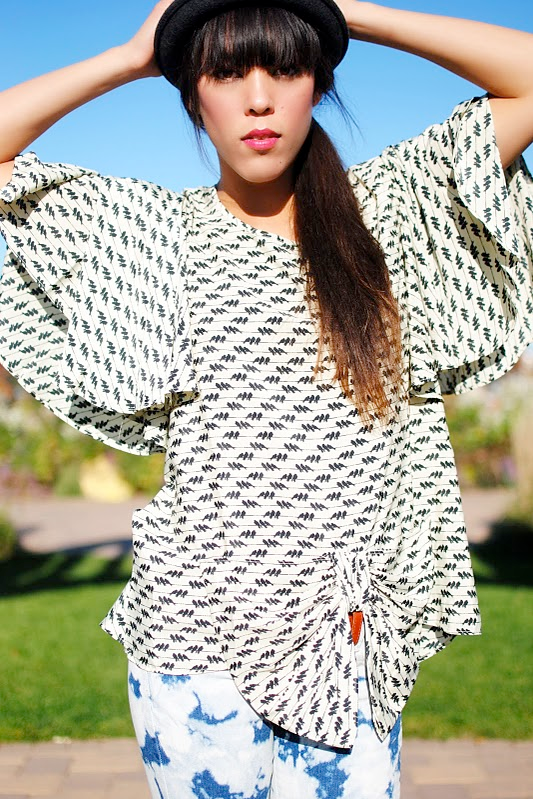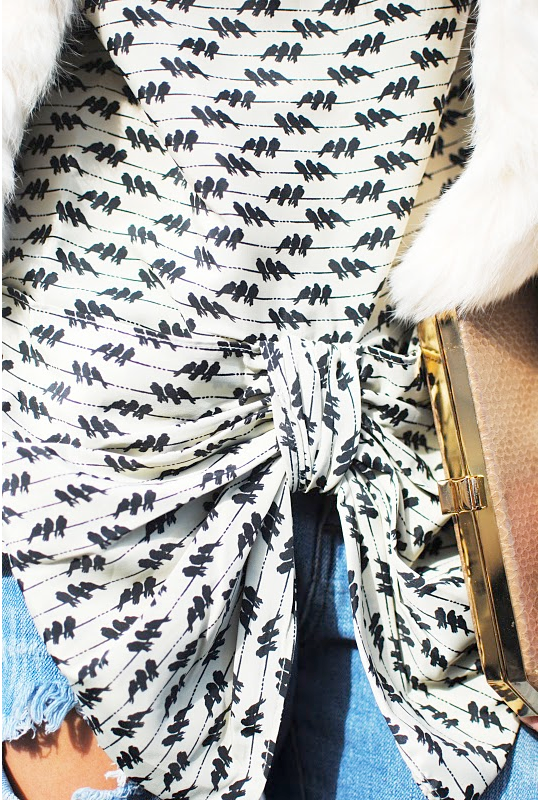 As I have said before… I LOVE BIRD PATTERNS!  :)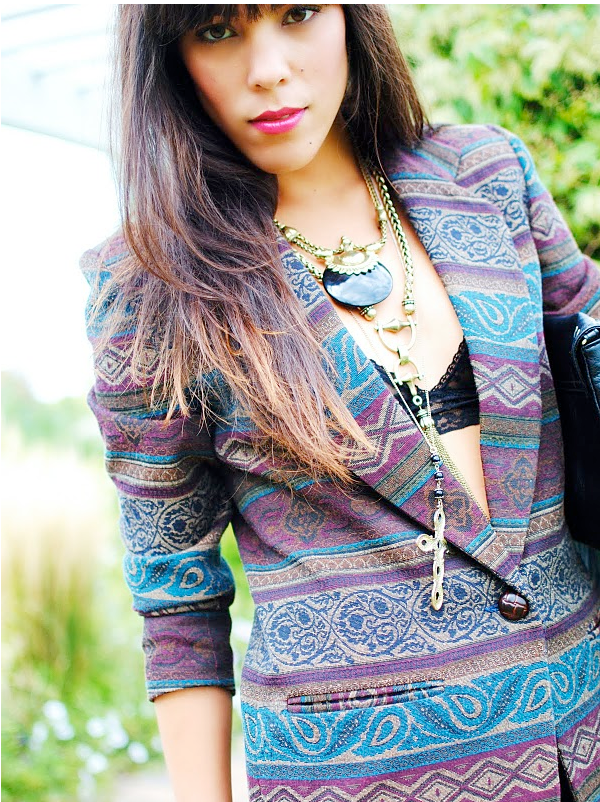 Been into Puh puh paisley lately aaaand blues and purples!  I think this blazer rocks!
HIP